Just about two years after the first one, I've decided to give Stitch Fix another try! A group I'm in on Facebook has really been raving about SF and similar services, and I figured they've had some time to get their act together since the last time I tried them, so I'd give them a shot. I asked for two things: longer tops I could wear with leggings (possibly with lace or crochet), and a poncho with any length sleeves. Well … No modeling photos, because I'm lazy, but here are the results:
Market & Spruce "Chaimbers Cowl Neck Knit Top" – $48
This is a loose, 3/4 sleeve gray sweater with a small cowl neck that seems to hang pretty nicely. It fits well, although it doesn't really have coverage for leggings. It's a nice soft knit, but do I need yet another 3/4 sleeve gray sweater? Do I $50 need it? Sigh, I'll probably keep it.

photo
RD Style "Honay Cowl Neck Poncho Pullover Sweater" – $78
This poncho is crazy. I know I asked for any length sleeve, but this is literally a knit bag with 3 holes for your head and arms. And a kangaroo pocket. Hope you like keeping your arms at your sides, because you can't raise them! It's just sloppy looking, even the yarn it's knit from looks disorganized. Return.

photo
19 Cooper "Clemency Split Neck Tunic" – $68
Well I asked for a tunic, so… This one actually has kind of a neat black and white pattern that only slightly hurts my eyes. It is so long though! I guess I should specify in my style profile that I am like 90% legs and 10% torso. It really looked redonk on me, and also I hate tab sleeves. Return.

photo
Loveappella "Febe Crochet Detail Knit Top" – $48
This is a stretchy short-sleeved black top with crochet running from the neck down the sleeves, and a split shoulder. I loved it the moment I put it on, despite the fact that it also isn't really long enough to wear with leggings! And I probably wouldn't bother wearing it in cold weather, because that pretty lace will get covered up. I could definitely wear it out in the summer, though! Keep!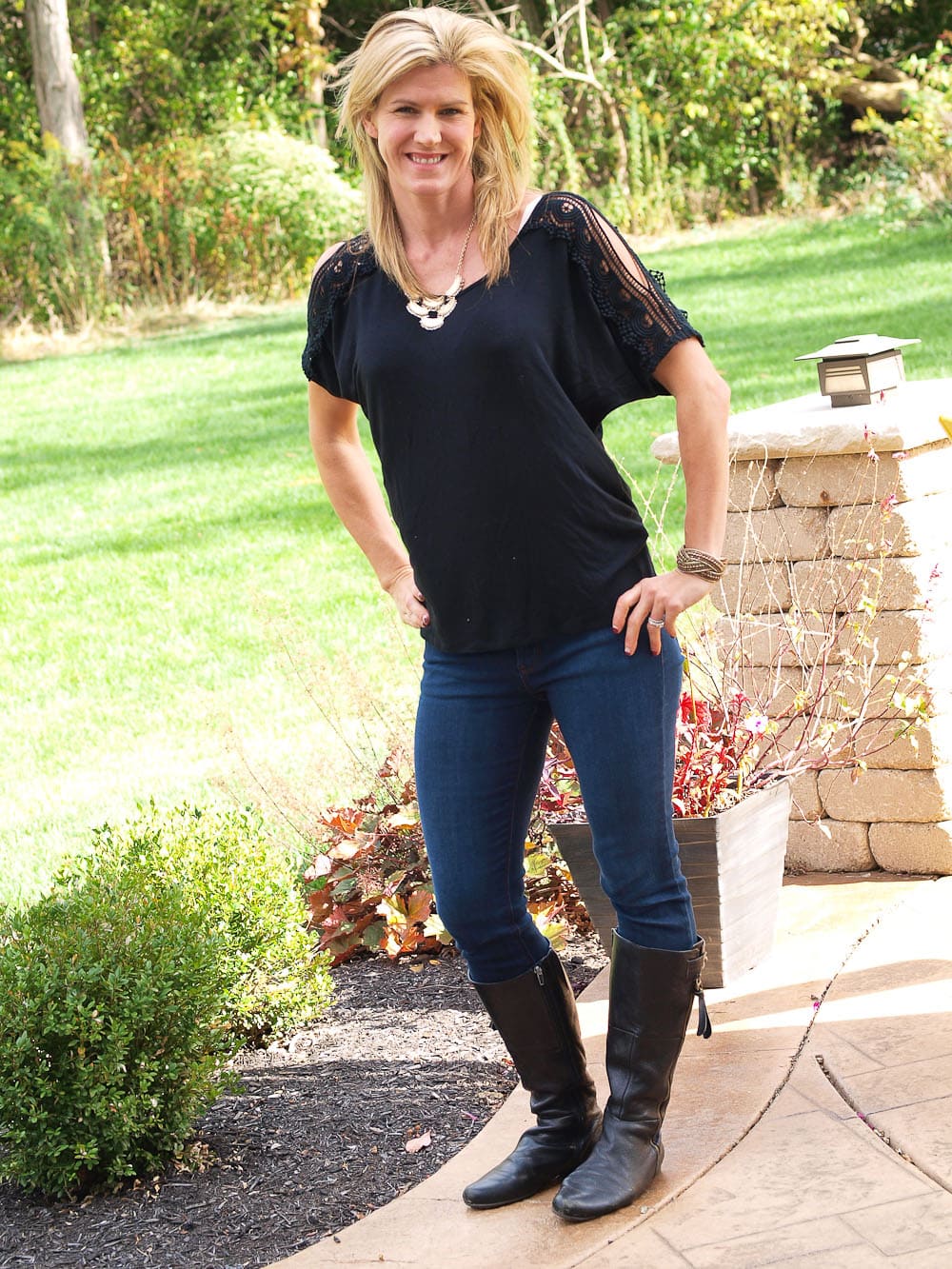 photo
Rune "Porter Legging" – $38
I did not ask for leggings. I asked for things I could wear with leggings. What is this?? (I couldn't even pull them over my hips, anyway.) Return.

photo